From March 23 to April 3, hundreds of people virtually gathered for the 2020 iConference, a forum for information scholars, researchers, and professionals to share and discuss work and ideas. The theme, Sustainable Digital Communities, highlighted working with communities, openness, privacy, cultural heritage and access to digital information – which aligns with the Centre's core mandate.
Centre staff Dr. Tricia Logan, Head of Research and Engagement, and Emily Larson, Digital Systems Consultant, hosted a session for interaction and engagement entitled "Innovations in Archival & Information Practices: Colonialism, Indigenous Peoples and Supporting the Respectful Use of Records."
They introduced participants to ongoing work at the Centre to create better systems, policies, and protocols in support of Indigenous communities and the complexities of providing access to colonial records. The session provided an opportunity for participants to share their own challenges and successes with advocacy, community archiving, and disrupting colonial information practices.
"For example, we grapple with the terms 'archive' and 'collecting' since it implies a colonial relationship with academia 'scooping' up Indigenous peoples stories and belongings for centuries. Part of the Centre's work and community outreach focuses on disrupting some of these colonial practices which are often found in libraries and archives," says Dr. Logan.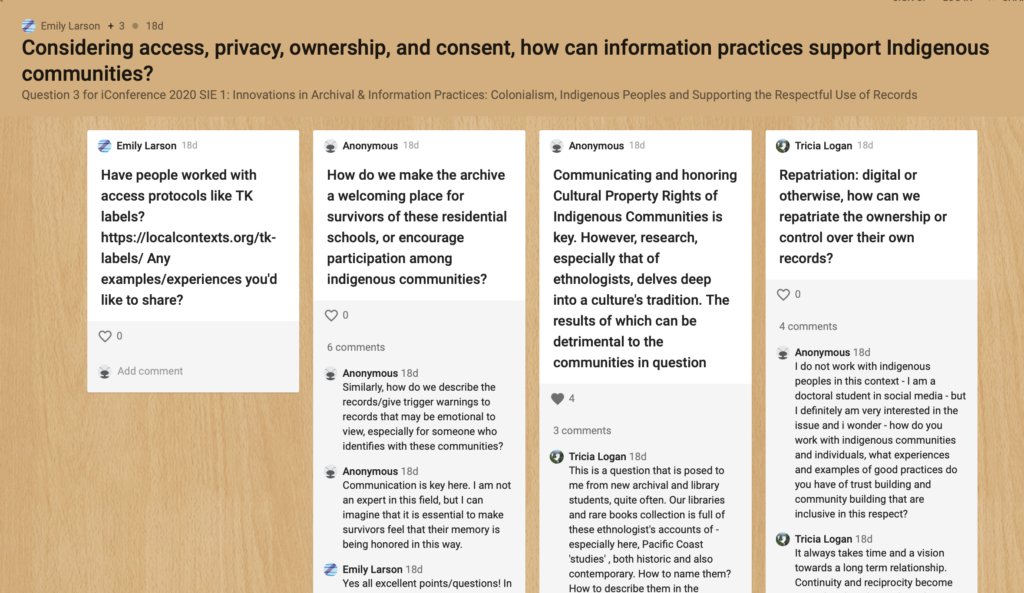 In the virtual breakout sessions, participants responded to questions via Padlet (linked below):
In addition to the Centre's session, the iConference featured many interesting presentations on subjects such as community archiving, data management, and digital equity. The conference, originally scheduled to take place in Boras, Sweden, was moved to a virtual format due to COVID-19.
"We are grateful to all the participants for engaging in these discussions," says Emily. "We would also like to express our deepest gratitude to the iConference team for their tireless work in transforming the conference to a virtual format and creating space for these important conversations."
Guest post compiled by Emily Larson, Digital Systems Consultant Assistant, and Tricia Logan, head of Research and Engagement at the Centre.